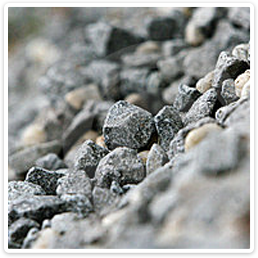 Crushed rock is inorganic granular bulk material with grains of size greater than 5 mm, obtained by crushing rock, gravel and boulders, along the way produced overburden and surrounding rocks or tainted waste from the mining enterprises for processing ores (ferrous, nonferrous and rare metals, iron and steel industry) and non-metallic minerals other industries and subsequent sieving products division.

Today the company is a leading producer of crushed granite in the Ukraine, which is produced by Lyubimov and Chaplinsky careers in the Dnipropetrovsk region.
The company offers granite rubble following sizes: 2x5, 5x10, 5x20, 10x20, 20x40, which are used in construction, building materials and road reconstruction. Annual production of crushed stone is about 1.5 million tons.

In recent years, due to changes in requirements for the quality of roads and highways cover the company launched a EUR gravel fractions 4x8, 8x11, 11x16, under orders, using high crushing equipment SANDVIK with flakiness indices up to 10%.